Did you know that the guitar is one of the most popular instruments in the world to play? A quick Google search will tell you that it's actually the second most popular, to none other than the piano.
The guitar is versatile, portable, and aurally pleasing, so it's no wonder that so many people want to take some time out of their busy schedules just to learn a few chords here and there.
The online guitar lesson world has benefited tremendously from this common love, and today we're going to take a look at two of the biggest names in the business.
On one hand, you've got TrueFire who's been around since the beginning of online guitar lessons, and on the other, you've got ArtistWorks who is comparably new but offers extremely high value. We'll get into the details in a bit, but for now, let's look at the big picture.
TrueFire Overview
What is it?
TrueFire is an online guitar lesson platform offering thousands of high-quality video lessons, live lessons, and weekly video blogs, and more.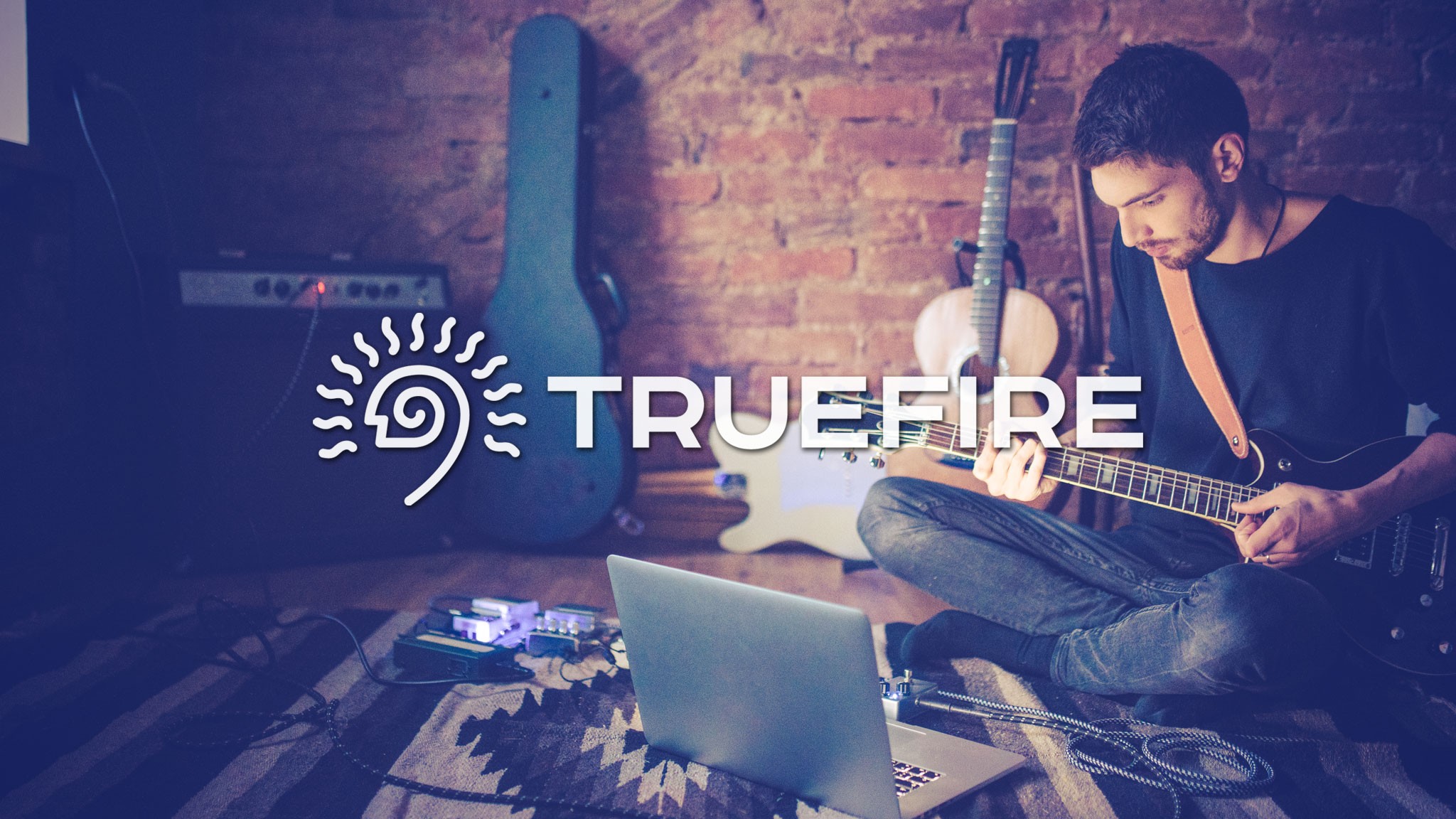 This platform was started in 1991, making it the older of the two. It's no wonder why they've got over 40,000 online video lessons to choose from.
Is it any good?
TrueFire is great. They offer lessons in a wide range of styles from reputable instructors, making it a great option for anyone looking to teach themselves. The platform is easy to use and relatively affordable.
Main Features:
Pre-recorded video courses
Various musical styles
Library of songs to learn
TrueFire Channels (weekly video blog series' and exclusive content from artists)
Multitrack video jams
High-profile instructors
How Does TrueFire Work?
The TrueFire platform works on a monthly or annual subscription basis. When you pay for a membership, you gain access to almost all of the lesson content.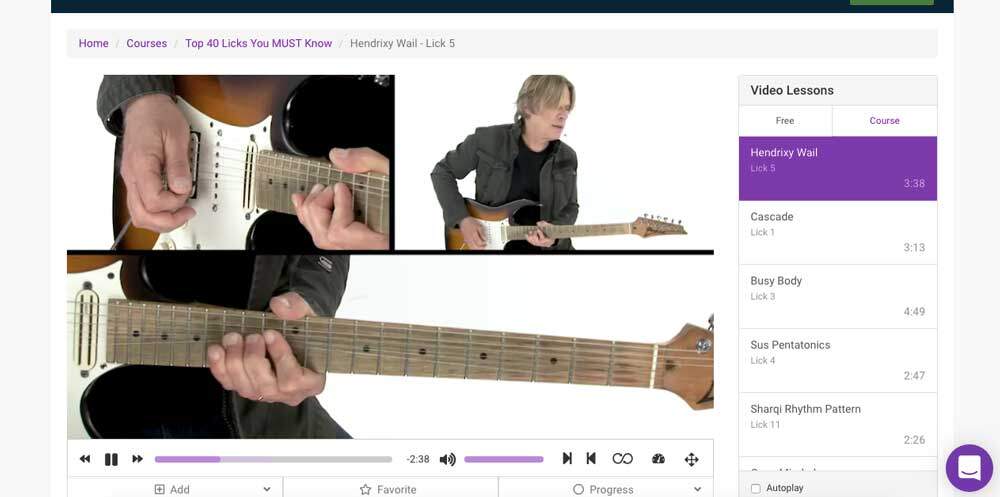 You can also gain access to live one-on-one lessons, TrueFire Channels (weekly video blogs and masterclasses), and extra recordings to jam along with for added fees.
ArtistWorks Overview
What is it?
ArtistWorks is an online lesson platform that works through its patented Video Exchange Learning system. Because of this, it works a little bit differently than other online guitar lesson programs.
Your membership not only gives you access to the archive of previous video exchanges but also gives you access to their high-profile instructors.
Is it any good?
Some might say that ArtistWorks is overpriced because it doesn't have as much content as other platforms, but they've definitely nailed the idea of quality over quantity. ArtistWorks is a great platform for online guitar lessons – they're just a bit different than their competitors.
Main Features:
Patented Video Exchange Learning system
High-profile instructors
Variety of styles to learn
Access to previous video exchanges in your selected style
Direct access to instructors
How Does ArtistWorks Work?
Comparing ArtistWorks to many of the other major online guitar lesson platforms sometimes feels like comparing apples to oranges. Instead of paying for a monthly subscription, you pay for a 3-month, 6-month, or 12-month lesson program.
When you pay for a lesson program, you gain access to the full archive of video exchanges and lessons in your musical style and are able to access the instructors via video exchange as well.
Key Factors When Trying To Decide Between TrueFire vs ArtistWorks
Signing up for an online guitar lesson program is a financial commitment, and comparing the important features can be a daunting task. Everybody learns differently, so think about these carefully, and consider whether or not these platforms are right for your needs.
Your own interests
TrueFire and ArtistWorks have lessons for anybody. Unless you're a virtuoso guitarist, there's likely something on either of these sites for you. Both platforms have courses for complete beginners, as well as lessons for intermediate and advanced players.
In my opinion, the biggest difference between the two in this category will come from how serious you are about learning the guitar. If you're just looking for something to kill time, or just play guitar as a hobby, TrueFire might be better for you.
If you're a serious student or prefer less commercial flash in a lesson platform, then ArtistWorks might be better for you.
Reputable & Experienced Instructor
If you're new to the guitar, finding a good teacher can seem impossible. If you don't know how to play, how can you know if someone is a good teacher?
Both TrueFire and ArtistWorks guarantee that you'll be receiving high-quality instruction from some of the best teachers in the world.
TrueFire has a long list of fantastic (and some high-profile) teachers. ArtistWorks is devoted to quality, and because of that, their list of instructors is limited to only ten -that's just one master per style!
The course curriculum
There's nothing quite as challenging as teaching yourself how to do something that you've never done before. Yeah, you can try to mimic the movements of someone from a video, but that will likely leave you without any understanding of the theory behind it.
The courses in each of these platforms are well-designed. If you follow the curriculum, you'll have a much better understanding of what's going on -more so than you would from just jumping around from video to video on YouTube.
Both TrueFire and ArtistWorks have courses tailored specifically to the complete beginner. Either way, you'll be playing in no time.
User Interface
It's important that the website or app itself is easy for you to navigate – especially when you're spending a lot of time using it. Knowing which one is easier for you to use will save you headaches later on.
TrueFire's website is extremely easy to use. Just click on the courses tab to find a course you'd like to begin or select a learning path if you'd like to learn a specific style.
ArtistWorks is also very easy to use. You just have to sign up for a course in a specific style, and then you've got access to all of the video exchange content you could possibly need!
Tools
One of the biggest advantages that online lessons have over traditional in-person lessons is the virtual interactive learning tools.
Something as simple as a smart metronome can take your playing to a whole new level.
TrueFire lacks reference tools but comes with an awesome proprietary interactive jamming app that allows you to completely control the mix, change the key, and also comes with chord charts and lead sheets for you to follow along.
Since learning on ArtistWorks is based entirely on video exchanges, there isn't much offered in this category. That would make ArtistWorks a good option for the simple-minded, old-school learner!
How much time you're willing to practice
You can have all of the best instructors, lesson plans, interactive tools, and reference guides in the world, but if you don't put in the time to really practice, you're not going to see any results.
Learning the guitar (or any instrument) requires time, self-discipline, patience, and consistency. So whatever platform you decide to try, I recommend you give 100% effort to practice and then judge the platform based on your results. Sometimes the only thing stopping you is you!
Benefits and Drawbacks of Each
TrueFire
Pros
Access to over 40,000 video courses in a multitude of styles
Also offering lessons in Bass, Banjo, Harmonica, and Ukulele
High profile instructors
Longest-standing platform with proven track record
Free 14-day All Access Trial Period
Great for beginners, intermediate, and advanced players
Access to one-on-one lessons for an added fee
Cons
While the majority of the content comes with All Access membership, you have to pay extra to access the TrueFire Channels, and these costs can add up quickly
The artist courses are designed more with intermediate and advanced players in mind, so beginners will have to work their way up
Lack of reference materials and other general practicing aids
ArtistWorks
Pros
High profile, master instructors
Individual feedback for every student
Great for beginners, intermediate, and advanced players, depending on which course you sign up for
Lessons offered in multiple styles of guitar including beginner acoustic, bluegrass, rock, electric country, blues, fingerstyle jazz, classical, jazz, dobro, and lap steel
Good option for players of all levels
Cons
No library of standalone lessons or song tutorials, only what is available in each course
Cost might deter those looking for an affordable option
No available interactive practicing tools
Price Comparison at a Glance
TrueFire
$29 monthly
$249 annually
One-on-one lessons: up to $150 per month
ArtistWorks
$105 every 3 months
$179 every 6 months
$279 annually
Who Is TrueFire Best For?
TrueFire is best for complete beginners, and anyone looking to freely explore a wide variety of musical styles on the guitar.
Who is ArtistWorks Best For?
ArtistWorks is best for the more serious guitar students, as most of the platform's value comes from direct feedback from guitar masters.
TrueFire vs ArtistWorks – Final Thoughts
As I mentioned earlier, comparing ArtistWorks to TrueFire (or almost any other major lesson platform) is like comparing apples to oranges.
ArtistWorks appears to offer less content for more money (but more value in the content), which makes TrueFire more palatable for the general population of new guitarists. So, if you're new to online lessons, I recommend you check them both out and decide for yourself!
Further Reading: