If you're new to the guitar and are in search of suitable lessons for yourself, you've probably come across the names Fender Play and Yousician.
I'll start off by saying that in no way are either of these platforms suitable for long-term guitar learning. Both of these platforms are designed for beginners and while Yousician might disagree, it's difficult to ignore the blatant lack of musicianship taught through the Yousician program.
Fender Play at least gives you some lessons on how to play songs, a bit of theory, and how that gets expressed in the music. But in some ways, as you'll see, comparing Yousician to many other online guitar lesson platforms is like comparing apples to oranges.
For the sake of interest though, let's take a closer look at each one in this Fender Play vs Yousician review so you can decide for yourself.
Fender Play Overview
What is it?
Fender has been building guitars since around 1946, but in the world of online guitar instruction, they're still new to the crowd. Because of their late arrival, the platform is structured similarly to many other online lesson platforms.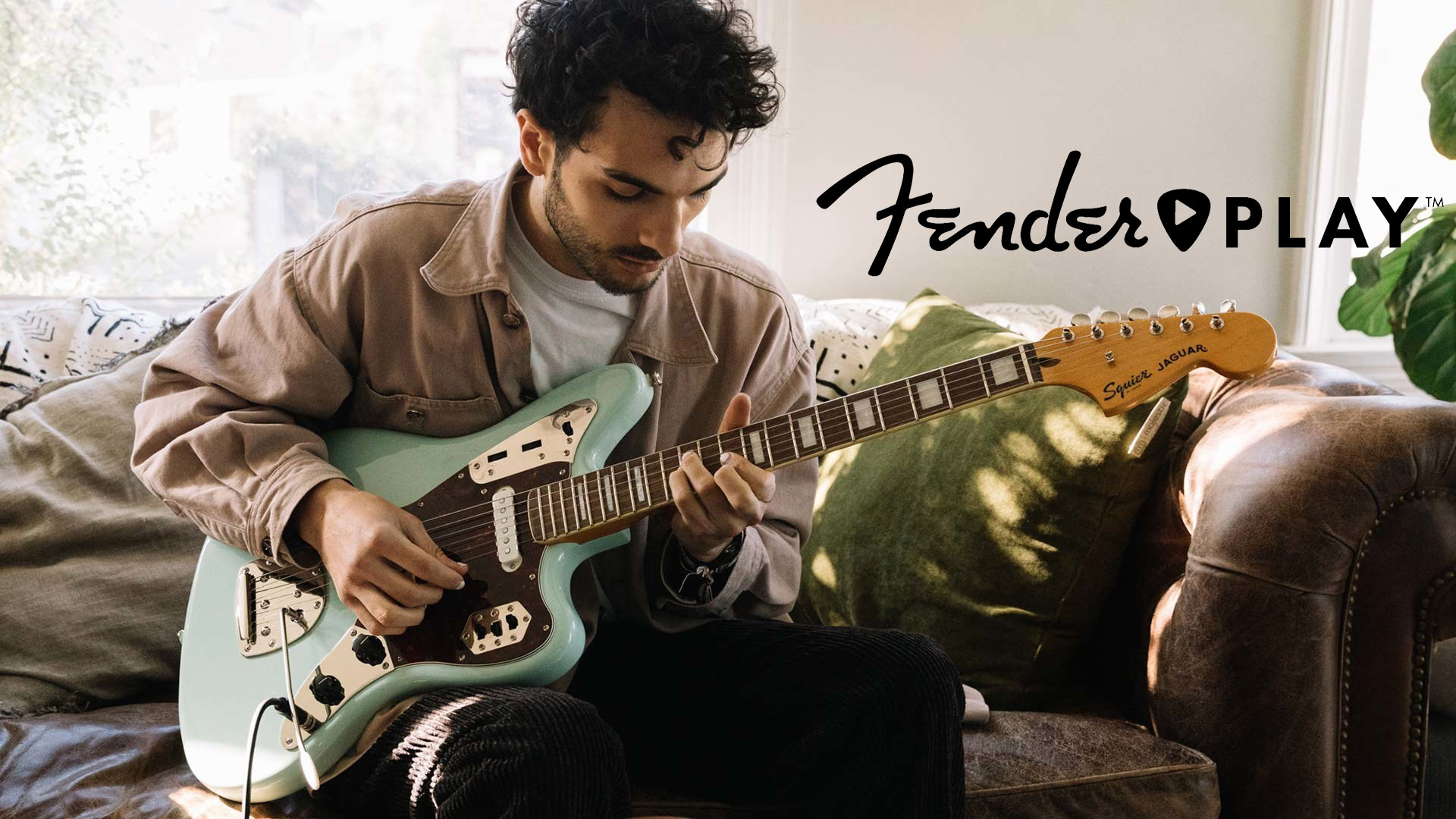 It looks good and operates well. It's user-friendly, with apps for several different devices, and has a clear, progressive course curriculum for brand new guitarists, covering lessons in five major musical styles: blues, folk, country, pop, and rock.
Is it any good?
Fender Play is good if you're a complete beginner. In fact, it's really only good if you're a complete beginner.
The platform is easy to use, however, with clearly defined lesson objectives, and tons of songs for you to learn how to play. Many of these songs are oversimplified versions of the original though. You might actually find that same issue on Yousician…
Main Features:
Choose between multiple instruments (acoustic guitar, electric guitar, ukulele, and bass guitar)
Choose between multiple styles (blues, folk, country, pop, and rock)
Multiple guitar instructors
Clearly structured lessons plans
Library of songs to learn (not too bad for beginners)
Some interactive features like practice mode, and chord challenges
How Does Fender Play Work?
Fender Play works on a subscription basis. You can sign up for a monthly or annual subscription, which gives you access to all of their lesson content, including regular lessons, song lessons, interactive features, and others.
They also offer a free 7-day trial to get you started.
Yousician Overview
What is it?
Yousician is an app-based lesson platform that is essentially nothing more than an interactive practicing tool that tells you when you make mistakes and keeps score of how well you're doing.
Simply put, Yousician has gamified the process of learning how to play the guitar through an app that shows you where to play the notes on the guitar, listens to you playing, and keeps score.
Is it any good?
Overall, Yousician is effective at teaching you the mechanical aspect of playing songs on the guitar. If you're interested in things like musicianship and artistry, look elsewhere. Yousician sort of dropped the ball there.
Main Features:
Choose between multiple instrument (guitar, ukulele, piano, singing)
Huge library of songs to learn
Some video tutorials
Easy to use the app
Takes you step by step
How Does Yousician Work?
Yousician is a simple lesson platform. You sign up for a monthly or annual subscription, and you get access to the course content.
You can either follow the program step by step like a video game or jump around and search for songs to learn. The app shows you what to play, where to play it, and when – while listening to you play, and scoring you as you go.
Key Factors When Trying To Decide Between Fender Play vs Yousician
Before committing to an online guitar lesson program, there are some things you need to consider, and comparing the important features can be difficult if you've never played before. So, let's go through some factors you should consider, and see how each platform meets those needs.
Your own interests
Do you just want to strum chords on an acoustic guitar? Do you want to learn how to shred on an electric guitar? Is there a specific style you're most interested in learning how to play?
Fender Play offers a fairly diverse selection of musical styles to learn, but they're designed for complete beginners. You won't be learning how to shred on Fender Play, but you'll definitely learn some chords, so maybe this is all you need from a lesson platform.
Yousician doesn't offer lessons in specific styles. There are tons of songs for you to learn, but there are no courses to teach you a style. Yousician is a gamified practicing aid, so you'll pretty much just be learning the mechanics of playing without the knowledge to support it.
Reputable & experienced Instructor
Having the best teacher in the world isn't everything, but knowing your teacher has helped previous students succeed at playing gives you confidence in continuing to learn from them.
Fender Play's instructors are of high quality. They explain concepts clearly, and the video lessons are recorded in high-definition video and audio, so you're getting, "quality." Fender Play simply doesn't produce high-level guitar players though and that's just because it's designed for complete beginners.
Yousician doesn't come with an instructor, since you're learning from an automated game with some video tutorials from a faceless person every once in a while. This is one of those "apples to oranges," things.
The course curriculum
Fender Play and Yousician's courses are very well organized and progressive. So you'll be getting better as long as you keep practicing.
Both of these platforms are designed for brand new guitarists, so naturally, both programs will leave holes in your base of knowledge when compared to a more comprehensive online lesson program like Guitar Tricks, JamPlay, or TrueFire.
User interface
Before you start using a website or an app for long periods of time, you want to make sure that it makes sense and is easy to use.
You likely won't find an online guitar lesson platform that's difficult to use, but you should at least give them each a try and decide which one you personally like better.
Both of these platforms are easy to use. All you really have to do is follow along.
Tools
Having tools to enhance your learning experience isn't a necessity when learning the guitar, but it can definitely help.
Fender Play offers users some tools like a metronome, practice mode, and chord challenge. These things simply enhance your experience.
Yousician is essentially a practice tool in itself, so if you prefer to have visual and aural aids for learning, Yousician might be a good option for you.
How much time you're willing to practice
You can have all of the best instructors, lesson plans, interactive tools, and reference guides in the world, but if you don't put in the time to really practice, you're not going to see any results.
Learning the guitar (or any instrument) requires time, self-discipline, patience, and consistency. So whatever platform you decide to try, I recommend you give 100% effort to practice and then judge the platform based on your results. Sometimes the only thing stopping you is you!
Benefits and Drawbacks of Each
Yousician
Pros
Easy to use
Large library of songs to learn
Plenty of visual and aural aids
Some video tutorials throughout.
Cons
No instructors, no feedback
No apparent course curriculum, which will leave holes in a beginning student's knowledge base
The app can teach you to play notes correctly, but there is no musicality involved – which is the actual basis for playing any musical instrument
Too expensive for what you get
Fender Play
Pros
Logical progression of course materials
Affordable, with a free trial period included
High quality production of video courses
Large library of songs to learn
Cons
Best only for complete beginners, as even the later courses cover rudimentary concepts, and overly simplified versions of songs
Only five major styles are offered
Price Comparison at a Glance
Yousician
$19.99 monthly
$119.88 annually
Fender Play
$9.99 monthly
$89.99 annually
Who Is Fender Play Best For?
Fender Play is for complete beginners who would like to simply get started, but also want to have an instructor of some kind.
Who is Yousician Best For?
Yousician is best for beginner guitarists who need or prefer to have visual and aural aids through their process of learning. It won't get you to a high level of playing or musicianship, but it will get you started.
Fender Play vs Yousician – Final Thoughts
Overall, I wouldn't recommend either of these platforms – not even to beginners. For the sake of this head-to-head review though, I would recommend Fender Play before Yousician.
Simply being able to perform the mechanics of a song on the guitar is more like lifting weights or running fast than it is like playing music. Yousician is a great idea as a practice tool, but it's also overpriced for what you get out of it.
Learning theory and musical expression at any level will be better for you in the long run. So even if it's through Fender Play, you'll be more equipped to learn more difficult music later on.
Further Reading: